Koi Ponds Care Home Page ::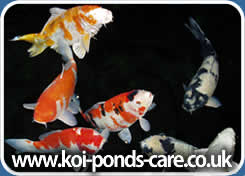 Hello and welcome to Koi Ponds Care, Our aim here at Koi Ponds Care is to promote successful Koi keeping, all articles are written by the Koi Pond Care team and share over 20 years experience in koi keeping.
Please feel free to check our informative articles that cover every aspect of koi keeping from detailed information on what types of koi are available, to facts on pond pumps, pond filters and pond supplies. Koi ponds care also includes an ever expanding links section. Whether you are a koi pond keeping beginner or a seasoned koi pond expert we have beneficial information for everyone interested in koi keeping.
In order to use the koi ponds care website please use the navigation buttons located to the left hand side of the website. The pages that are currently available to view are a koi and ponds info page, this will give you the help and advice you need in order to overcome any koi keeping problems or general koi/pond enquiries you may have.Koi ponds care also contains a web page dedicated to informing you of the different varieties of koi with photographs and descriptions of each. There is also a beginners guide to koi keeping which details exactly what is need when starting out in the koi and ponds world.
Here at Koi Ponds Care we have also included a pond products page which offers reviews, features and technical information on the latest pond products. With the difficulties of selecting the correct pond pump for your pond we have included a guide of what to look for when choosing your pond pump and what will be best for your pond. Koi Ponds Care also includes an informative guide to koi pond filters detailing exactly what pond filters do and how useful they are to your koi pond.
The buy koi and pond supplies section of our website takes you to a highly recommended koi and pond supplies store that has everything you will ever need, either for building a new koi pond, maintaining a koi pond or koi pond accessories this is the website for your koi and pond supplies. Our website also includes a links section with links dedicated to other specialist koi and ponds websites, you can also get in contact with us here at Koi Ponds Care through our contact page where we will be happy to help answer any of your koi and pond related queries.
If you feel you can add anything to our site such as an article then please feel free to email where we shall review it and if we see fit, we will add it to our site. We greatly appreciate links however, we cannot guarantee all sites will be added, we look for quality and accuracy when adding links to our site.