Elecro Pond Heaters ::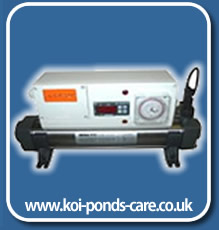 Koi Ponds Care Review:
The Elecro Stainless Steel Pond heaters have been designed to the highest standards to give long lasting and accurate temperature control for Koi ponds or swimming pools. The Elecro 900 Evo series of pond heaters offer precise all-season temperature control for professional fish keepers, breeders & hobbyists. Featuring digital control and new ultra-efficient super long life heating element. Designed for safety and easy installation. All Elecro pond heaters come fitted with 1½'' BSP female threaded adapters for ease of connection.
New Features
Digital Temperature Control and Display. External Reversible Water Flow Switch NEW High Limiting Thermostat. Integral Contactor Relay. Circuit Protection Delay Switching.
Power Requirements:
Power Rating 1-kW - 230V - 5 Amp 2-kW - 230V - 9 Amp 3-kW - 230V - 13 Amp 4-kW - 230V - 18 Amp 6-kW - 230V - 26 Amp 8-kW - 230V - 35 Amp 6-kW - 400V - 3 Phase - 9 Amp 8-kW - 400V - 3 Phase - 13 Amp
Technical Information:
Main Tank Stainless Steel BS316 > Stainless Steel BS316 Heating Element(s) > Stainless Steel - Reinforced with Titanium High Limiting Safety Thermostat > 50°C Manual Reset Digital Control Thermostat > Displays & Controls Temperature Minimum Flow Requirement > 1,000-litres per hour Maximum Flow Velocity > 10,000-litres per hour
Click Here to Buy Pond Heaters
Return to Pond Products