Hozelock Cyprio Titan Pond Pumps ::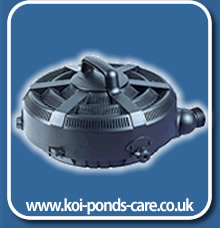 Koi Ponds Care Review:
Titan Pond Pumps are a submersible solids handling pump from one of the U.Ks' biggest water gardening specialists. Hozelock Titan pond pumps are a low wattage filter pump range available in a variety of sizes. The pump is enclosed in a heavy-duty plastic cage the holes in the cage can be adjusted from 2mm to 4mm. The adjustable hole size means you can minimise the risk of fish fry being sucked into the pump during the breeding season.
These pumps are designed to be solids handling and resistant to clogging. Supplied with a multi step hose tail to take hose diameters of 19mm (3/4"), 25mm (1"), 32mm (1.25") and 40mm (1.5"). 10 m of electrical cable is fitted, this can be easily extended using a weatherproof plug and socket (not supplied) and the pump comes with a three-year guarantee.
Click Here to Buy Pond Pumps
Return to Pond Products