Oase PondVac 3 :: Probably the Best Pond Vac On The Market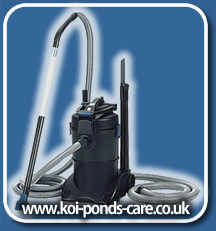 Koi Ponds Care Review:
New improved model 3 pond vacuum, continuous running for faster pond maintenance. Oase Pondovac 3 makes maintenance and cleaning of your pond a joy to do. Quickly and easily removing sludge and debris from the bottom of garden ponds and large Koi ponds alike.
Oase Pondovac 3 is a sludge vacuum cleaner which can remove particles of dirt, algae, string algae, sludge, dead vegetation and bits of leaves. This new version of the tried and tested Oase pond o vac makes pond maintenance even quicker and easier. Like all Oase products the Pond o vac is a high quality piece of kit that helps make pond maintenance a much easier job.
The new model of the Oase pond o vac, contains 2 sludge and water holding tanks inside the vacuum body. When one tank is full it automatically empties and water is sucked into the second tank, this in turn empties as the first tank is re-filling. The design gives a continuous operation and greatly speeds up maintenance time.
New Features:
The New Generation Of Pond Vacuum Cleaner – We Don't Give It A Rest!
The Two-Chamber System: Two identically sized cylinders are filled and emptied in alternating cycles. If one container is full then a valve is mechanically activated by a float. This triggers emptying of one and at the same time allows the other cylinder to be filled. This is how both vacuuming and emptying of the container can occur at the same time! The transport casters ensure that the device can be easily moved. The scope of delivery includes a special string algae nozzle, a wide nozzle with a rubber lip, a crevice tool and a floor nozzle, the vacuum tube extension, as well as a debris collection bag for the water return. It is also ideally suited for wet vacuum implementation in the household.
Technical Information:
Dimensions (Ø x H) 380x685mm Voltage 230 V/50 Hz Power consumption (watt) 1,200 max. 1,400 Length of suction hose 5m Length of discharge hose 2.5m cable length 4m Guarantee 3+2=5 years
Click Here to Buy Pondvacs
Return to Pond Products